Mural Wallpapers

Our mural wallpapers offer a really simple and effective way to make the most of your walls, creating exciting and vibrant new places in your care home for residents to enjoy. We have an extensive library of wallpaper designs, all cleverly configurable to fit wall spaces of any size.
Click the links below to see more examples of our mural images and how they may be used:
Shop Front Mural Wallpapers - fabulous shops, cafes and restaurants filled with fascinating detail
Scenic Mural Wallpapers - beautiful vistas that bring inside the colours of the natural world
Door Set Wallpapers and Door Prints - clever ways to personalise individual bedroom doors
Picture Window Prints - colourful prints with views and abundant detail to brighten any wall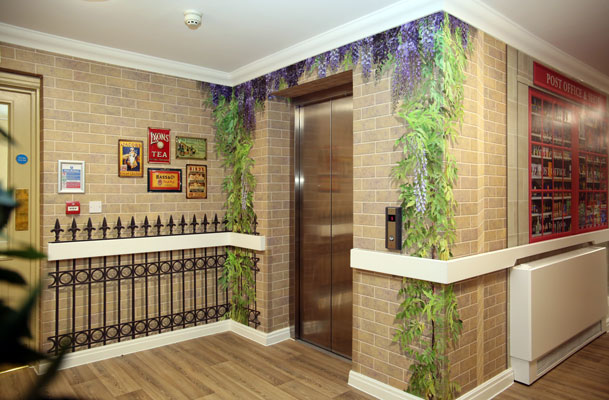 Consider some of the walls in your care home and imagine how our wallpapers might transform those spaces quickly and refreshingly into something amazing. Perhaps a prominent feature wall as a focus of interest, or a themed area where residents like to congregate, or even an entire corridor with a continuous flow of absorbing imagery.
All our designs may be customised, giving you the opportunity have wallpapers tailored to your unique and specific requirements. The possibilities are endless.
If you feel inspired and have some ideas for enhancing your care home with mural wallpapers, then please call us - we will gladly work with you to create a mural that is just right for you and for your residents.